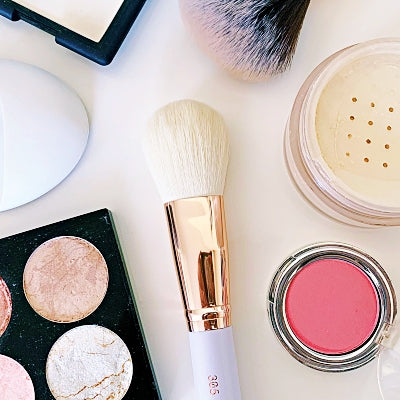 Boost Your Glow With The 305 Radiant Blush Brush
Looking for a way to give your skin that extra boost for make-up that shimmers and shines? We've got the perfect brush to answer all your blush, highlight, and bronzer needs — and even foundation! Check out our tips below on how to take your radiance to the next level with the super soft and versatile 305 Radiant Blush Brush…
1. Prep to perfection 
Create the perfect base for your 305 to work its magic on by making sure your skin is properly prepped. We recommend first cleansing your face as it's a great way to ensure you have a smooth and clean base to work on. If you're looking for an even brighter natural complexion, you can also gently exfoliate to ensure your face is looking smooth and energised. Our Face Prep Tool is the perfect skin prepping partner to do this with, but you can always simply use your hands.
2. Seal in that glow 
After a gentle cleanse, finish prepping your face by applying a nourishing moisturiser and primer to give your skin a revitalised and healthy glow. The trick to keeping your newfound radiance is to seal in the moisture with a layer of translucent powder before foundation. Dip your 305 (or your favourite fluffy powder brush like our extra luxurious 101 Plush Powder Brush) into your translucent powder and lightly dust it all over your face to ensure that your skin and make-up stay looking fresh all day.
3. Airbrush your foundation
Here's a little secret you might not know…Blush brushes are actually an amazing tool for applying a light layer of foundation to create a natural and airbrushed look! If you want your glowing skin to shine through your foundation, we suggest applying your foundation to the centre of your face then using your 305 brush to lightly buff it outwards in circular motions. The soft and fluffy brush fibres will help you create a diffused and natural look without leaving any noticeable lines like some traditional foundation brushes. One of our favourite make-up artists @Mua_Hay has a super easy tutorial showing you how she does this that you can watch here! 
4. Look beautifully bronzed
Time to warm up your complexion for beautifully bronzed and golden glow. We recommend lightly tapping your 305 brush in bronzer and making sure you tap off any excess product before applying — the 305's special LuxeBlend fibres are amazing at picking up pigment! Then add dimension and warmth to your face by lightly applying your bronzer just underneath the cheekbones and around the hairline using light circular motions for a natural sun-kissed look.
5. Blend in your Blush 
Finally you're ready to put your Radiant Blush Brush up to the test of applying and blending your favourite blush. With powder, cream, or liquid cheek stains, the 305's domed and fluffy brush head is the perfect shape to blend out your choice of blush for the most radiant cheek look! First, apply your blush to the apples of your cheeks using the tip of your 305 brush and then gently sweep it outwards. Use circular motions to blend it out into your bronzer for a seamless and natural look.
6. Add a pop of highlight 
Add the finishing touch to your radiant blushing look with a little bit of extra shine. Use the flat side of your 305 brush to lightly apply your favourite highlighter to the high points of your face such as along your cheekbones, cupid's bow and chin. This little pop of highlight will glimmer when it catches the light for a face that sparkles all day long. 
You now have all our top tips for creating the most radiant face looks and all with just your 305 brush! We can't wait to see you shimmer and shine with your 305 — glow get 'em and don't forget to tag us in your posts at @NireBeauty.
WITH LOVE,
NIRÉ BEAUTY