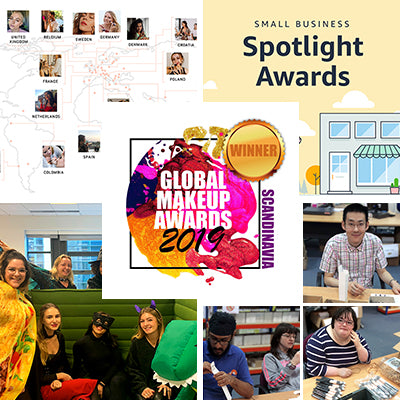 OUR TOP 5 MOMENTS OF 2019
HELLO BEAUTIES AND SEASONS GREETINGS

With the Christmas season in full swing and 2019 drawing to an end, we wanted to take a minute to wish you all a very Merry Christmas from everyone here at Niré Beauty.

Firstly we'd like to say a massive thank you to all of our lovely customers for the love and support you've shown us all year long. Seeing everything you create with our brushes makes all our hard work worth it so please keep it coming and don't forget to tag us! @nirebeauty

And, since it's almost time to welcome in the new year, we thought there's no better way to bring 2019 to end than sharing out top five memories from the year personally hand-picked by your very own Team Niré...

Niré Reaching 50 Countries Far and Wide
Although we're very proud of our British roots, there's nothing we love more than seeing our brushes reach new exciting lands and this year we finally hit the 50 mark! For helping us to grow more and more each year we'd like to say a huge thank you to all our diverse and loyal fans that have been with us from the beginning, and a warm welcome to our new international customers who have just joined the Niré family. We've created a little map below if you're interested in seeing just how far Niré has travelled this year:
Being Nominated for Amazon's Small Business of the Year
As you might have heard, we were recently nominated for Amazon's Small Exporting Business of the Year Award. It's a really prestigious award and not only were we honoured to be shortlisted for the top 3, but our hearts were well and truly warmed by the massive amounts of support we received. It was an amazing experience which we're very grateful for so we'd like to send lots of love to Amazon for the experience and to everyone that supported and voted for us. 
Team Niré Growing and Glowing 
2019 was not only an important year for the growth of Niré Beauty, but for Team Niré too! We've been lucky enough to have a glow up of our own, expanding Team Niré and welcoming a diverse and lovely group of new members to the family. We pride ourselves on our diversity and multiculturalism, so one of the top highlights of 2019 has to be sharing it with new team members from all across the world so thank you, grazie, and merci for all the hard work!
Launching our People and Planet Initiatives 
Niré has always been committed to being a cruelty-free and vegan-friendly beauty brand right since the very beginning, but 2019 was a huge year for us in evolving into an overall Earth-conscious brand meaning that we've been hard at work implementing initiatives that are kind to both people and our planet. Not only are all our brushes and travel accessories vegan-friendly, we're really proud to have thrown ourselves into going green and successfully made all our external packaging recyclable to try to protect and conserve both animals and the planet they live on. We're also extremely proud of our partnership with social enterprise Paperworks which provides personalised support for people with autism, learning disabilities, and complex needs. They help us to fulfil our online orders and we couldn't be more thankful for them.
Launching our Award-Winning Essential Glow Set with Hayley McCourt
While there have been a lot of memorable moments in 2019, we have to give the top spot to the launch of our new collection, the Essential Glow Set, with one of our favourite MUA's and a true queen of artistry Hayley McCourt (also known as @muahay). It's been some time since we released a new collection and our Essential Glow Set was our most bold and innovative one to date with exciting new glitter handles, our latest LuxeBlend fibres, and our favourite new beauty tool the Niré Facial Cleansing brush. We've loved collaborating with Hayley to design our beautiful new collection and we love seeing all the beautiful looks she creates with it even more. We're also very excited to announce that all our hard work did not go unmissed... Our Essential Glow Set was announced as the Gold place winner for the Global Makeup Awards Best Makeup Tool! We couldn't be prouder and happier to see our Essential Glow Set being recognised globally for all its unique new features. It's been a rollercoaster and we've loved every minute of it!
It has truly been an amazing year for Niré, so we'd like to say a warm goodbye to 2019, and a thank you to you all for the memories. We can't wait to see what 2020 brings… 
WITH LOVE, 

NIRÉ BEAUTY