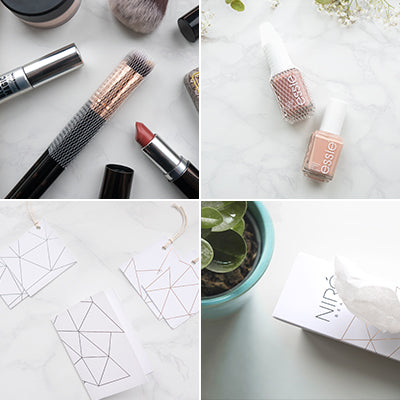 NIRÉ BEAUTY X PEOPLE AND PLANET: TOP TIPS FOR REUSING YOUR PACKAGING
HELLO BEAUTIES,
It seems that 'going green' is the phrase on everyone's lips right now and here at Niré we couldn't be happier about it. We've been working hard on our People and Planet initiatives to help conserve our beautiful planet (check out our blog post to find out more), so in aid of our Reduce, Reuse, Recycle policy we want to share with you some helpful tips on how you can reuse your Niré packaging. Believe it or not, our boxes, brush nets, beauty blenders, and plastic brush bags are not just one trick ponies. Before you think about putting them in the recycling bin, why not try some of these fun and useful ways to reuse them:
BRUSH NETS 
After opening your brush set, don't be fooled into thinking that you should throw out the little plastic nets that some of your brushes come lovingly wrapped. All Niré brush nets are reusable! They're designed to protect your brushes from damage and help keep their shape even after washing, but they're also pretty useful in other ways too: 
Ever wanted to top up your make-up on the go without having to carry all your brushes and your storage capsule with you? Bundle smaller brushes together, and you can use your brush net to carry and protect them when you're out and about. 

Brush nets are not only useful for protecting your brushes — use them with other delicate items like flowers to give them some extra protection when you're carrying them about. 

If you're tired of your make-up getting dirty or damaged in your make-up bag, you can also use your brush nets to protect them. They work the best with little bottles like nail polishes and lipsticks. 
BEAUTY BLENDER
Don't worry, Niré beauty blenders are designed to last you a long time, but if eventually you decide it's time to invest in a new one, your old one can be used in so many different ways! 
Cutting your beauty blender in half makes it a really handy tool for taking off your nail varnish. Simply cut it in two, dip it in nail varnish remover, and wipe away. 

Once you've removed your old nail varnish you can actually use the other half as a nail sponge to create an ombre nail effect. Start by painting your nails with a base coat of white or the lightest colour of your ombre. Then paint your colours in stripes from lightest to darkest onto the flat side of your beauty blender and press and roll it onto each nail — it's so pretty and really easy! 

Let's not forget that your beloved beauty blender is actually first and foremost a sponge! This means once you're done using it to apply your make-up, it's actually really useful to help you clean things like your computer or phone screens, and you can even polish your shoes with it!

If cleaning isn't your thing, then you can actually use your blender to get creative! By cutting your beauty blender in half you can use it for all your arts and crafts projects — you can even cut it up and use it as a stamp. And when it comes to Easter time, why not cover it in paint and glitter to have as a cute little Easter egg decoration? 
YOUR BRUSH BOX 
Whilst it definitely is recyclable, we spend a lot of time trying to make our boxes as beautiful as the brushes inside them, so we've come up with a few different ways you can show off your brush box by reusing it: 
Got a cold? Try turning your box on its side and cutting a slot along the top of the box. You can then slide a pack of tissues into the box, pushing the first tissue up through the slot you have just cut. And voilà — you've got a funky new tissue dispenser!

If you've got too many pens and pencils to count and nowhere to store them, look no further than your Niré brush box. Simply cut the box in half, then fill it with dry rice and stick your pens and pencils inside, or glue in two empty toilet rolls to slot your stationary inside. P.S. you can also use this as a make-up organiser to store your eyeliners, lip liners, and mascaras. 

Is there any cuter way of sending a thank you card than by using the box your gift came in? If you were lucky enough to receive your brushes as a gift, you can actually cut up your box into a small thank you card to show them how much you love your new brushes. Or just use it as a pretty little card to give to someone special. 
We can't wait to see you try out some of these fun ways to reuse our packaging and all of the other ideas you come up with, so make sure you tag us on Instagram to show off your upcycling skills @NiréBeauty. 
Green really is the new black. 
WITH LOVE, 
NIRÉ BEAUTY